Do you love cooking, but hate the clutter on your countertops? At Granite and Marble Solutions, we have just what you need. Introducing a revolutionary new cooktop, Invisacook! Invisacook is changing the way we cook and use our kitchens, providing a more efficient and aesthetically pleasing cooking environment. This invisible cooktop is installed under your countertops from Granite and Marble Solutions, making it virtually invisible within your kitchen.
Invisacook is designed to be easily installed and to fit under nearly any countertop, making for a sleek and modern look while still providing the same cooking experience as a traditional cooktop. At Granite & Marble Solutions, we are the top countertop fabricator and installers in Alpharetta, GA, and strive to help you find the kitchen and bathroom countertops of your dreams! With our custom granite, marble, and other stone countertops and Invisacook, you'll find that making your dream to have more countertop space come true is easier than ever before. To get started with new countertops and Invisacook technology, reach out to our team today.
What is Invisacook?
Invisiacook is the latest innovation in kitchen technology — a cooktop that is completely invisible! You'll be able to cook all of your favorite meals as normal without sacrificing the counter space that traditional cooktops require. Our countertop specialists will help you choose a compatible countertop stone, including porcelain and various granite countertops, that fits your kitchen's style. During the installation process, Invisacook is installed beneath your countertops, resulting in a completely flat surface.
Invisacook gives you maximum cooking space in your kitchen without compromising on style. You can select the number of burners that will be most suitable to your needs, ranging from one to four burners. Using electromagnetism technology, similar to an induction stove, to heat your cookware, the granite will safely heat while your food cooks perfectly to your liking.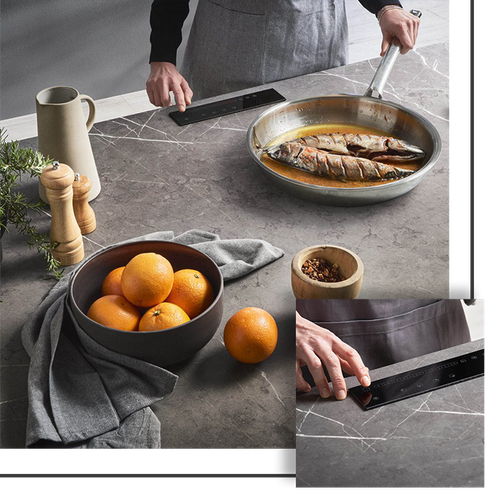 Why Choose Invisacook?
Invisacook is the perfect solution for those looking to upgrade their kitchen in a modern and unique way. As countertop specialists in Alpharetta, we love to see maximum countertop space in your kitchen! Not only is it incredibly visually appealing to use a hidden cooktop like Invisacook, but it also serves a very functional purpose — freeing up more room for you to enjoy your kitchen when you aren't cooking. Whether you need extra surface space for chopping vegetables, adding decor, setting up for a work-from-home day, or whatever the case may be, when Invisacook is not in use it serves as a perfectly functional countertop for everyday use.

As your trusted granite countertop installers, we want you to feel confident in the safety of the product you're using. Invisacook offers a range of safety features, the best one being that no direct heat comes from the device! And, with a hidden cooktop, you're also able to avoid any tricky spills and messes, making cleanup simple and easy.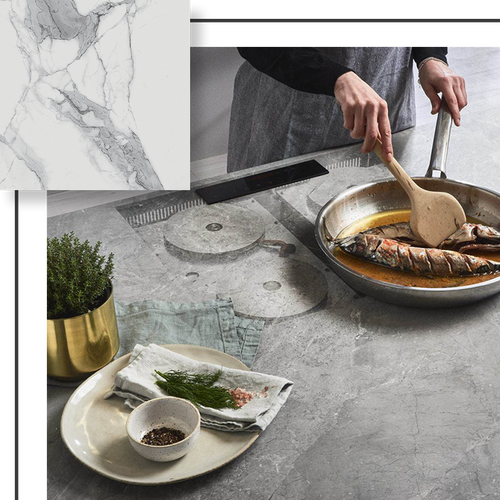 Granite and Marble Solution and Invisacook
Here at Granite and Marble Solutions, we're dedicated to helping you find the countertops of your dreams for your home or business in Alpharetta. When you choose Invisacook to maximize your kitchen's style and functionality, you can rest assured that we will find the perfect countertops to make it a reality. Not only do we offer a range of custom granite and porcelain countertops that are compatible with Invisacook, but we're also dedicated to superior craftsmanship, competitive pricing, and dependable service.
Invisacook is the perfect solution for those looking to add a touch of style and modernity to their kitchen! With its sleek and modern look, you can be sure that your kitchen will not only look stunning but will also serve all of your needs. If you're looking for a unique and stylish way to upgrade your cooking space and countertops, partner with Granite and Marble Solutions to have Invisacook installed in your home!
Make an Appointment Today!