Roswell, Georgia
Top Rated Local® GRANITE AND MARBLE
Granite & Marble Solutions: Roswell's Choice for Premier Countertops
Nestled in the heart of Georgia, Roswell shines as a beacon of community and culture. Having been lauded multiple times for its unparalleled living experience, it's no wonder residents of this cherished city demand nothing but the best for their homes. And when it comes to home renovations, especially in spaces that matter, like kitchens and bathrooms, Granite & Marble Solutions rises to the occasion. Take a look at our products and services, and feel free to contact us with any questions!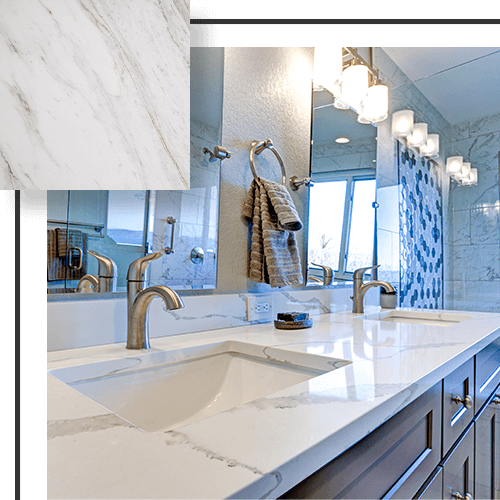 Marble
The Ancient Greeks and Romans used to carve astonishingly beautiful sculptures out of marble — now you can bring that classic beauty into your own home! For residents of Roswell, we offer an exceptional selection of marble countertops and backsplashes. Once installed, you and your visitors will fall in love with marble's unique look and its stunning natural variances.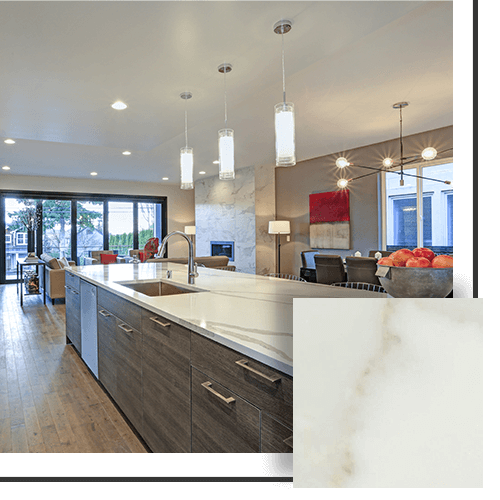 Quartz
When it comes to versatility, no other type of material is a match for quartz. Not only do quartz countertops and backsplashes look amazing, but they are also extremely durable. Scratches, spills, and germs come right off, and you don't even have to seal it! This makes quartz an ideal option or Roswell homeowners who are looking for ways to minimize household maintenance.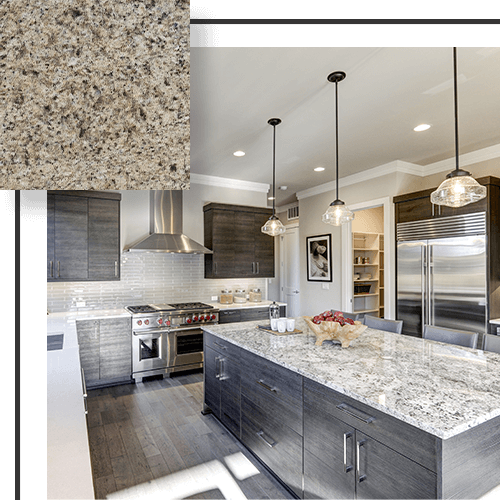 Granite
Praised for its resilience, attractiveness, and timeless appeal, granite is one of the most popular types of stone that we offer at Granite & Marble Solutions. The amount of colors and patterns we have in stock is almost endless, so you can find the perfect slab to match your newly-renovated kitchen or bathroom.
Diverse Options Tailored for Roswell Homes
Beyond marble, quartz, and granite, we cater to a diverse taste palette. From contemporary porcelain countertops to the rustic allure of natural wood, our offerings span genres. For those envisioning a blend of technology and aesthetics, our invisible cooktop integration stands ready to redefine kitchen spaces.
Still contemplating? Our extensive gallery serves as a testament to the transformations we've helmed. And if our experience spanning two decades in Georgia is any indication, it's that we're not just about selling countertops; we're about sculpting experiences.
Why Granite and Marble Solutions is Roswell's First Choice
When it comes to enhancing the heart of your home, the right partner makes all the difference. Here are the reasons Roswell homeowners trust Granite & Marble Solutions:
Local Experience: We've proudly served the Roswell community for nearly two decades. This isn't just business for us; it's about being part of a community we love and understand.

Craftsmanship Matters: Our skilled team is dedicated to delivering top-quality finishes. Every countertop, every backsplash, every detail is handled with precision and care.

End-to-End Service: From your first visit to installation, we're with you every step of the way, ensuring a smooth and hassle-free experience.

Community Engagement: As a veteran-owned business, our ties to Roswell go beyond commerce. We're actively involved in local organizations and events, reinforcing our commitment to the community.

Customer First: Your satisfaction is our primary goal. We strive not just to meet, but exceed expectations, ensuring every project reflects our dedication to excellence.
In a community as vibrant as Roswell, we're proud to be the go-to choice for homeowners seeking quality, reliability, and a touch of elegance. Browse our gallery to get a sense of what we can do, then reach out to discover how we can enhance your home!